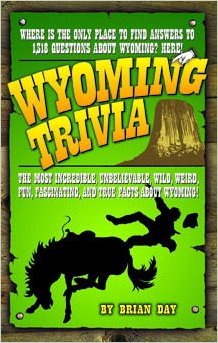 Where can you find ringing rocks, vanishing rivers, and the world's only hand-dug oil well?
Where can you find ghorouds and ergs, cement trucks mixing pancake batter? In wide, wonderful Wyoming, of course -- home of Broken Nose McCall and Big Nose Parrot, Bad Hand MacKenzie and Captain Kangaroo.
You'll be amazed and amused!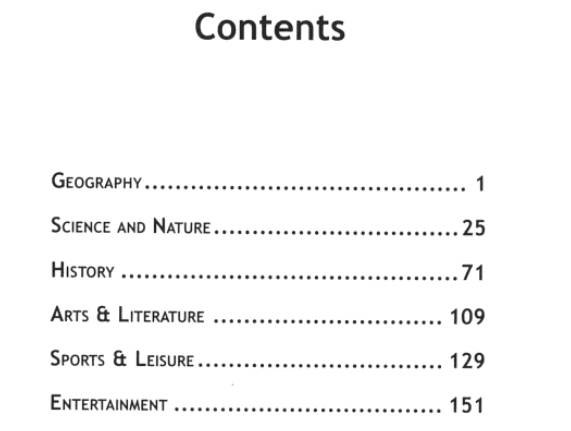 Only $8.96 ~ Available in paperback at Amazon.com

Product Details

Perfect Paperback: 169 pages
Publisher: Riverbend Publishing (December 10, 2007)
Language: English
ISBN-10: 1931832811
ISBN-13: 978-1931832816
Product Dimensions: 8.3 x 5.5 x 0.6 inches
Shipping Weight: 8 ounces
Here's a sample of what's inside!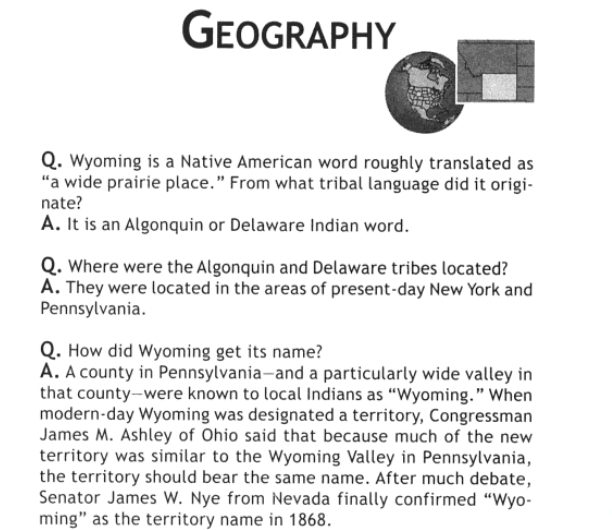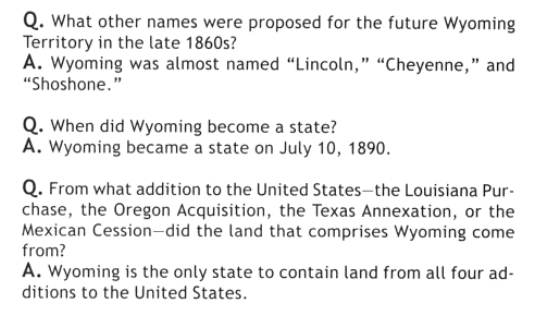 REVIEW by Erin K. Cole:
This is a great little book that is full of Q & As all about this rugged state. It is easy to read, and fun to share. It promotes great conversations, and spurs the reader to investigate a myriad of topics further.

This book would be fantastic for:
Bed & Breakfasts, Inns, Cottages - great for travelers to peruse during their stay. Every room should have one.
Bars & Restaurants - fun to thumb through to promote conversation - have a few copies on hand in case a patron spills his beer on it.
Bathrooms - not to deep, relaxing read, thought provoking - every Wyoming bathroom should have one
Classrooms - This would be an inspiring book and teaching aid. It brings forth a variety of ideas that might lead a student to conduct further research.
Reading on a flight... to Wyoming... easy to start, easy to stop, easy to pack in any carry on. You'd have it nearly finished before your arrival, and would be a well informed tourist!
Got a few minutes between buffalo herds in Yellowstone? Read a few pages of Wyoming Trivia!

I could go on and on.. read during commercials, read while waiting for that big buck to saunter through the trees, read while waiting for the fish to bite, read while waiting for the rest of your party to finish shopping.

Enjoy it as much as I have!